※This site uses affiliate advertising.
Heirin-ji was built in Iwatsuki district,Saitama,in 1375. Sadly, it burned down during the Sengoku period. Ieyasu Tokugawa offered money and land to rebuild Heirin-ji , and then it was built in 1592. Heirinji was moved from Iwatsuki to Niiza in 1663 by Nobutsuna Tokugawa's will. Heirin-ji is the famous temple where many Buddhist monks come for the ascetic training.
Nature in Heirin-ji
The forest environment in Heirin-ji has been preserved. In 1968, it was designated as a natural monument. There are many beautiful trees on the forest grounds.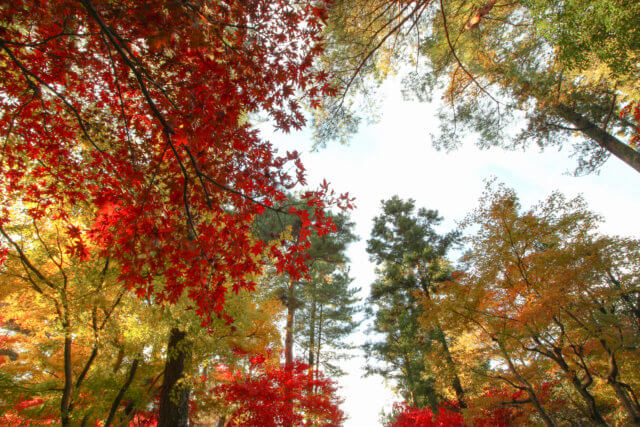 Beautiful colored leaves in Heirin-ji
Hirin-ji is a very popular as a spot where people can see beautiful colored leaves. Seeing the colorful trees and the historical temple is awesome. Suisouken,which is located across from Heirin-ji, is lit-up in the end of November, I recommend visiting Suisouken when you visit Heirin-ji. 
※Check the schedule of lit-up in Suisouken on the website below
新座市産業観光協会 新座めぐり。
http://www.niiza.net/news/9476.html
 国指定天然記念物平林寺境内林の一部で、自然豊かな景勝地である睡足軒の森において、紅葉のベストシーズンに毎年恒例のライトアップを行います。 期間中は、呈茶、美術展等の多彩な文化芸術的催しも行います。古民家・睡足軒の持つ独特な雰囲気や夜景空間に浸りながら、おいしいお茶を楽しみ、文化・芸術に触れてみませんか。皆様ぜひお越しください。期間 11月21日(土曜日)から12月1日(火曜日)まで、午前9時~午後7時30分 ※ ライトアップは午後4時30分から。会場 睡足軒の森(睡足軒・紅葉亭)駐車場・駐輪場 睡足軒の森...
Access
Address
3-1-1 Nobidome,Niza,Saitama 352-0011
By Public Transportation
Train Line
Train Station
The Exit to Bus Terminal
Bus Number
Tobu Tojyo Line
Tokyo Metro Yurakucho Line
Tokyo Metro Fukutoshin Line
Shiki
South Exit
Hibari (ひばり)73
Tobu Tojyo Line
Tokyo Metro Yurakucho Line
Tokyo Metro Fukutoshin Line
Asakadai
South Exit
Kuru( 久留 )22, Asa(朝)24-1
Seibu Ikebukuro Line
Higashikurume
East exit
Kuru (久留) 22, Kuru (久留) 23
Seibu Ikebukuro Line
Hibarigaoka
North Exist
Hibari (ひばり) 73
JR Musashino Line
Niiza
South Exit
Kuru (久留) 23
Entrance Fee
Adult 500 yen
Elementary school students    200 yen
Younger than elementary school students Free
Opening hours
9:00 AM~4:30 PM
※The last entry is 4:00PM.
Goshuin
Heirin-ji doesn't offer goshuin. (It will be offered from February in 2020)