※This site uses affiliate advertising.
【What is nabe?】Nabe is Japanese hot pot and it is a perfect dish for cold weather!
Nabe is a dish in which various vegetables,meats and fish are stewed into a big pot. Nabe is often eaten in cold weather. The taste is usually soy sauce or miso. However, there are various types of nabe lately such as tomato and kimuchi. Many people eat one nabe together, so it is a popular dish at party. There are many restaurants offering nabe in Japan. You should try it when you come and stay in Japan. Of course, you can make nabe by yourself at home. I will introduce various nabe, nabe restaurants and how to make it!
There are many different types of nabe!
Nabe is a very popular and traditional dish in Japan. There are various types of nabe. Try some and find your favorite!
Yosenabe
Yosenabe is a hot pot whose soup is made of seaweed and dried small sardines. The ingredients are vegetables, meats and fish and they depend on the region. People put udon or rice into the soup after finishing eating the ingredients.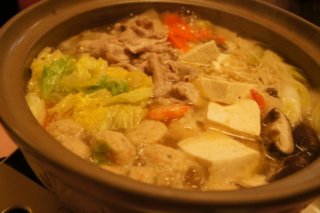 Tonyu Nabe(Soy milk Nabe)
It is a hot pot whose soup is soy milk. Tonyu Nabe is healthy and the taste is mild, so it is popular amoung women. People finish off nabe with udon.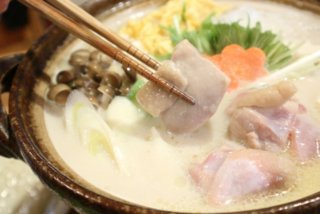 Kimchi Nabe
This nabe is put kimchi which is korean spicy pickles. If you love spicy food, you love kimchi nabe! Ramen or rice is put lastly. It is good to put in powderd cheese. The taste become a little mild.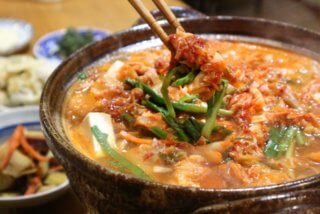 Tomato Nabe
It looks red and the taste is like minestrone. Tomato Nabe is popular among women and kids. People finish off tomato nabe with pasta or rice.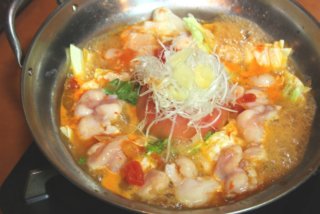 Shabu Shabu
Shabu shabu's broth doesn't have much taste. People use the pot to cook meats and vegetables. Dip meats into the broth until it is cooked and then eat it with ponzu vinegar or sesame seed sauce. The broth gets rid of the oil from meats,so shabu shabu is a healthy dish. Lastly, people eat udon or rice with it.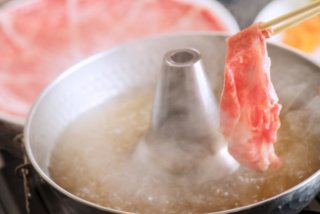 Sukiyaki
Sukiyaki is a hot pot whose soup is made of soy sauce and sugar. Beef, tofu and vegetables are stewed with the soup. The ingredients are eaten by dipping raw egg. If you don't want to eat raw egg,  just eat it as is. The taste is like gyudon.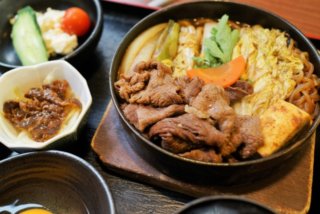 Restaurants you can eat delicious shabushabu and sukiyaki
People eat Shabu Shabu and Sukiyaki at restaurant. I recommend two restaurants below!
Shabu Shabu Onyasai
※Japanese website only
Dontei
※Japanese website only
How to make nabe
Of course,nabe can make at home. I will tell you tools and ingredents.
Prepare a big pot and portable stove!
Donabe is used to make nabe, but hot pot is okay too. You can get a portable stove at home improvement stores and supermarkets. You can enjoy making nabe with your friends and family if you have portable stove. You will have a good time with them!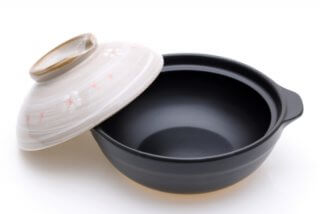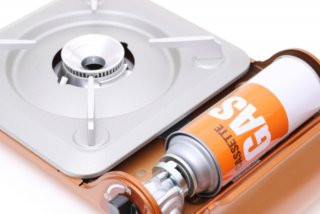 Buy nabe soup at the super market
In fall and winter, many types of nabe soups are sold at the supermarket. You can buy them online too. Get and use it to make nabe at home. You don't need to put any sauce or spices. Just warm it up!
Popular ingredents of Nabe
Meats, Hakusai(Chinese cabbage), Negi(Spring Onion), tofu and mushrooms are standard ingredients. Yosenabe is great to put in cod,Kimchi Nabe is good to put chinese chives, and sausage and cabbage make Tomato Nabe taste better!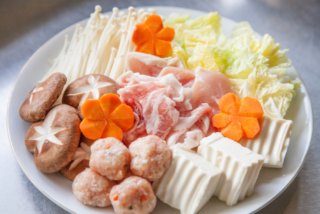 Eat rice or noodles last
Japanese people finish off nabe with rice or noodles. Many ingredients are put into nabe, so the soup is very tasty. Rice porridge and ramen using the soup are delicious.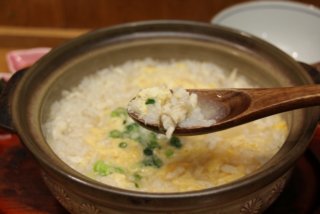 You want to eat nabe, don't you? You can eat sushi and ramen in your country, but nabe is difficult to eat. When you go to Japan, please try it! What buy nabe soup as souvenir is good too!