※This site uses affiliate advertising.
Red spider lily is called higanbana in Japan, because the flower blooms during ohigan season.
There is the place where people can see lots of beautiful higanbana in Satte, Saitama. The place is gongendo. That's a great spot to visit in September or October.
Higanbana at gongendo park
In fall, lots of higanbana bloom like big red carpets at gongendo park. Volunteers started to plant them in 2000. Around 5 million higanbana bloom there in September and October every year. From the middle of September to the beginning of October, the manjushage festival takes place at the park.
※Red spider lily is called manjushage or higanbana in Japan.
※Check the bloom forecast on the website of gongendo park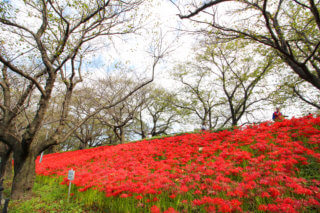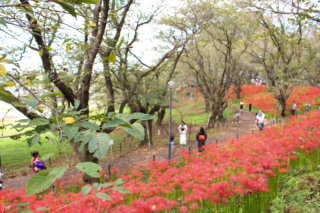 Other flowers we can see at gongendo
Gongendo park is very famous as a place where we can see beautiful flowers throughout the year. Cherry blossoms and canola flowers bloom in Spring, hydrangeas bloom in the rainy season. Many people visit the park and enjoy the scenery.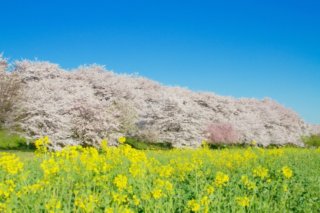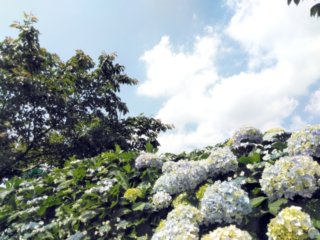 Access to gongendo
I recommend you to visit gongendo park by train and bus or car.
Go by train and bus
Get off Tobu Nikko line at Satte station, and then get on the bus bound for Gokamachiyakuba. Get off the bus at Gongendo.
Go by car
Around 10 minutes from Satte IC
 Around 20 minutes from Kuki IC
Address
Gongendo Tsutsumi, 887 3 Uchigouma, Satte, Saitama
Parking lots at gongendo
Opening Hours
Opening hours( from April to September)
From 8:30 AM~ 7:00PM
Opening hours( from October to March)
From 8:30 AM~ 5:00PM
Parking fee
 Free
※Except the duration of cherry blossom festival
Fall is the great season to go out and enjoy seasonal flowers. Go to gongendo park and see the beautiful higanbana!