※This site uses affiliate advertising.
If you have been to Tokyo, you must visit Asakusa. There are famous temples and shrines in the area. Also, Asakusa is a great spot to buy souvenirs plus with a variety of hotels to suit any budget, it's no wonder why Asakusa is one of most popular spots for tourists. Did you know the atmosphere in Asakusa at night is completely different from in the daytime? If you have been there only in the daytime, I strongly recommend you visit at night. Let me introduce 3 amazing places in Asakusa you should visit at night.
 Sensoji
Sensoji is the most famous temple in Asakusa. The architecture is stunning. Lots of tourists go to the temple in the daytime. Sensoji at night is more gorgeous and spiritual due to how wonderful the exterior of the temple is illuminated against the pitch blackness of the night. In addition, there are not many people at night. If you don't want to walk in big crowd, or have numerous tourist photobombing your precious moment, it's better to see Sensoji at night.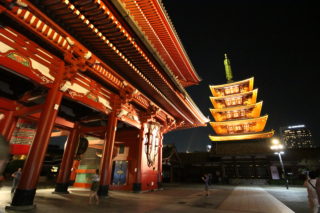 Nakamise Dori and Dempoin Dori
Nakamise Dori and Dempoin Dori are close to Sensoji. There are many shops selling a wide range of goods from souvenirs to confectionary goods on the streets. The stores are closed around 5pm, so you can't enjoy shopping at night. However once closed, Nakamise and Dempoin streets change from shopping areas to art galleries. Beautiful works of arts are painted on the shutters of stores. Each one is unique. Some are related to local culture and events of Asakusa, and the others are arts related to the stores such as coffee art on cafes and outfits on clothing stores. The streets are quiet at night, so they are literally free, open-air art museums.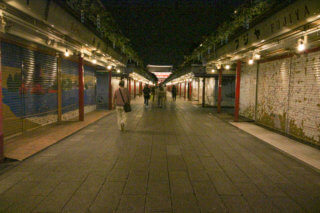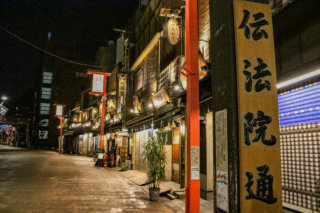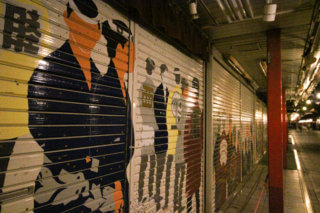 Asakusa Culture Tourist Information Center
Asakusa culture Tourist Information Center is located in front of Kaminarimon. Tourists can get information regarding Asakusa. Although the travel desk is closed at 8pm, you can go still to the 8th floor observation deck until 10pm. The view from the top of the building is amazing. Visitors can look down Kaminarimon, Nakamise Dori and Sensoji. Tokyo Sky Tree from the center is also beautiful.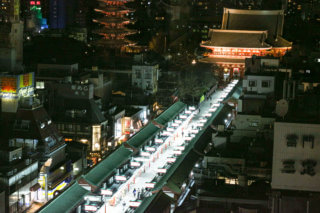 Asakusa is a very comfortable place to enjoy sightseeing. You should walk and enjoy the beauty not only in the daytime, but also at night!!