※This site uses affiliate advertising.
Have you ever had tonkatsu? Tonkatsu is a Japanese pork cutlet. The taste is really good and a special sauce for tonkatsu makes it tastier. Also, eating it with lemon and salt is great. Tonkatsu is one of the popular foods in Japan. Tonkatsu is often eaten right before a big event such as an entrance exam or important sporting events. This article tells you about a free refill service at tonkatsu restaurants and the meaning of tonkatsu for Japanese people.
Okawari free of charge
What is okawari ?
Okawari means refill. Some tonkatsu restaurants offer a free okawari service.
Usually, the okawari is unlimited. If you get the chance, you should use the
okawari service to enjoy your meal! Just say "Okawari kudasai" to servers to get refill.
What food items you can use with okawari free of charge
Rice
Miso soup
Cabbages
Pickles
※Some restaurants don't offer this service.
※The options depends on restaurants.  Please ask servers about free okawari.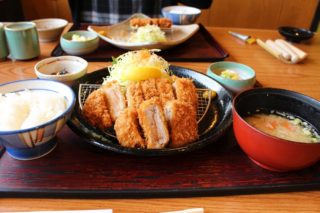 ↑This is tonkatsu lunch set at Katsutoshi that is my favorite tonkatsu chain.
Why do we eat cabbage with tonkatsu?
Tonkatsu is tasty, but oily too. Cabbage reduces the digestion and absorption of oil. Because of the  reason, cabbage is essential when we eat tonkatsu.
Eat tonkatsu the day before important events!
 Katsu means win in Japanese
The way to write is different, but sound of katsu is same as katsu that means win in Japanese. Many Japanese eat tonkatsu or katsu don the day before important events to get win. Katsu is not only a delicious food,  also a special food for Japanese.
Another food Japanese eat to get win
KitKats
The sound of the probuct name is similar to Kitto Katsu. Kitto Katsu means that you will get win surely. Many students eat KitKats on day of the entrance exams.
I strongly recommend you to go to tonkatsu chain and enjoy the meal with okawari service while staying in Japan. To get KitKats as a souvenir is a great idea too! Thank you for reading. See you next time 😉